Fall means colder weather, apples, and pumpkins, are you ready for fall? I do miss the warmer weather but it doesn't mean we can't enjoy fall. It's the perfect time to learn about apples with these apple life cycle worksheets. This set of printables is part of our Fun Fall Printables for Kids collection.
Learn how a seed grows into a delicious apple that we all consume. If you don't like pure apples, you may enjoy apple juice, cider, apple pie or a whole plethora of other apple treats. You can't go wrong with apples, they are a versatile fruit. There are thousands of varieties that are grown in North American and even more worldwide.
Apples are pretty affordable for us to purchase year round so we can enjoy them through the whole year here in Ontario. This makes it a staple in our home and the perfect snack for growing families. My teen can eat up to 5 apples a day. Can't complain, at least it's not junk food.
>> See more life cycle worksheets for kids
Supplies
There are vocabulary 3-part cards that you can use to teach new words to your kids. Dot coloring pages, writing pages, and a graphing activity make up the pack. Learn the different stages of the apple. You can laminate the puzzle so that you can reuse it again.
Worried about how much ink you're using up? I use the HP Instant Ink program with my printer and it's a wonderful way to get colored printables.
Cut open an apple and take a look inside. Examine the core, how many seeds are found inside? Is this the same for every apple. Find the different parts of an apple, core, seed, stem, leaf, skin and flesh.
Recommended Apple Books for Kids
I Am an Apple (Hello Reader Science, Level 1)

From Seed to Apple Tree (My First Science Songs)

A Tree Is a Plant (Let's-Read-and-Find-Out Science 1)

The Life Cycle of an Apple

To extend the activity, read your favorite apple books from the library. Learn exactly what an apple tree goes through from seed to full grown tree. What happens in the winter? You may also find the different varieties of apples that are grown in each country.
My favorite apple is Macintosh but they're not good for baking with but really good on their own.
Get the full Apple Life Cycle printable pack with more learning, writing, coloring activities for your kids including a Apple Life Cycle minibook and puzzles.
A new homeschool year is right around the corner!
Many homeschool moms are busy preparing and finalizing curriculum choices for the upcoming school year. And some homeschoolers are trucking on through the summer months as one school year flows into the next. Whatever camp you are in, you're bound to need new homeschool curriculum, and winning a gift card to a major online homeschool retailer would surely help you check some things off of your curriculum wish list.
I'm teaming up with some other great homeschool bloggers to bring you a HUGE gift card giveaway to Rainbow Resource Center. We will be blessing TWO homeschool families with a $250 for you to use on curriculum, books, games, puzzles, or whatever educational supplies you might need!
We know homeschooling can put a financial strain on families – whether it's from living on one-income or buying curriculum for multiple children – the financial aspect of it can be stressful. Our hope is that we can bless a couple of homeschool families (although we wish we could bless many more) so they can buy the curriculum and supplies they need.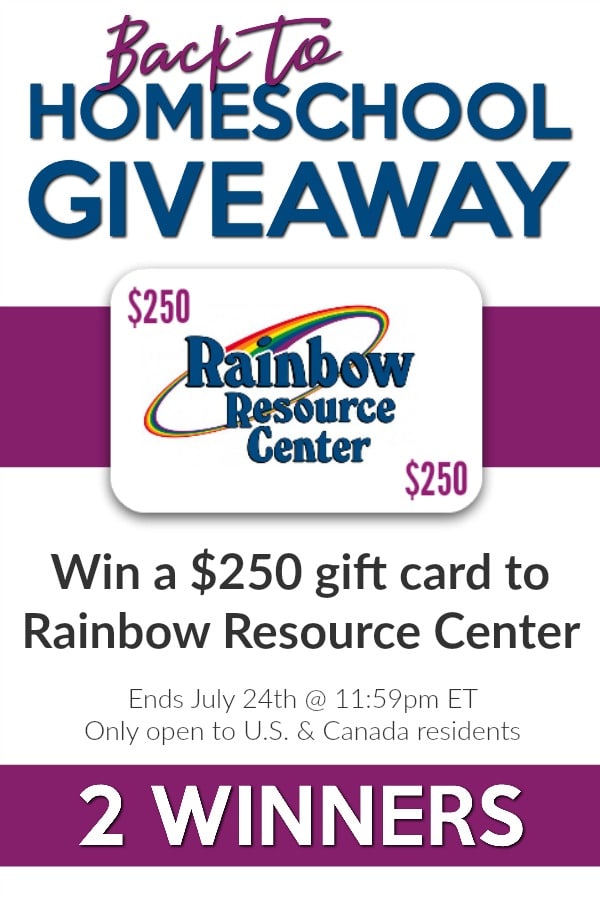 To enter for your chance to win, simply use the Rafflecopter form below to enter. Now I know that is quite a few entries for you, but each of these bloggers has generously chipped in their own money to make this giveaway possible, so I hope you will take the time to do all of the entries. And hey, the more entries you do, the better your odds are of winning!
Giveaway ends July 24, 2019 at 11:59pm ET. Must be at least 18 years of age. Must be a resident of U.S. or Canada to enter. Selected winners will have 48 hours to respond to email notification to claim their prizes or another winner will be drawn. By entering this giveaway, you agree to be added to the email lists of the participating bloggers (see the Terms & Conditions on the Rafflecopter form for the complete list).
a Rafflecopter giveaway

More Life Cycle Worksheets