I had the chance to review a book by Classical Conversations, called The Conversation, by Leigh A. Bortins. If you're like me and heading into homeschooling the high school years then this book may be for you. I've followed along reading many books about classical education as I do like the philosophy behind it but I never fully implemented it into our homeschool.
The author starts off with a little back story about her own children. I always love reading this part because I'm always interested in finding out what homeschoolers decide to do after they graduate and how the parents feel about the education they gave them. Leigh has 4 boys that she's homeschooled who two who have graduated with college degrees and the younger two going through high school.
She goes into details about their passions and what they are pursuing and their goals for high school and beyond. I enjoyed reading the next section where she addresses common fears that parents have about homeschooling high school. I'll admit that if it were up to me, I'd have my son try out high school but he's very adamant about staying home so we're forging on in our homeschool journey. It was nice to get some affirmation from someone else who has been there. My current circle of homeschool friends is only composed of one other family who is homeschooling through highs school at the moment.
The next section briefly touches on the definition of classical education and the 3 stages. Grammar where students memorize and absorbs facts, dialectic which is about forming connections and relationships between what they've learned and rhetoric that is about conversations and expressing the truths.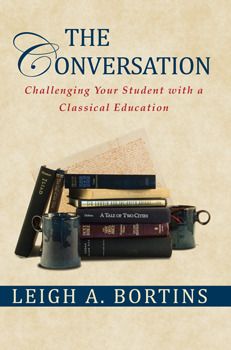 The book continues to go through the major subjects with plan on how to teach each one using the 5 principles:
Invention – What should I say? Involves research and planning
Arrangement – In what order should I say it? Involves arranging ideas in a logical order
Elocution – How should I say it? Use own style to present ideas
Memory – Commit ideas to memory or make it memorable
Delivery – How should the ideas be presented? In written or oral form
I liked how the author goes into detail about how she uses this approach in language arts from writing to reading and goes through a very specific example with you about what you would have your child do and what questions they can ask themselves as they plan and research their work to get to the end result.
She goes through how to work through a persuasive essay and then through a scientific paper. Science is my thing so I like to see how others do it. I enjoy seeing how in depth she tries to get her students to go into. It's not just a paper using the scientific method but the student is asked to come up with their own topic and questions, to devise their own plans to solve that problem and evaluate their findings. They are also encouraged to study the theory behind the problem to come up with an well informed conclusion using the above methods. It's very thorough.
I'd recommend this book to parents thinking of homeschooling high school or those that are following the classical education model. While I don't follow it at all I like to read about different homeschooling methods and take away chunks and pieces that I feel would benefit our family.
You can purchase The Conversation from The Classical Conversation bookstore for $16 $12 and is geared towards the homeschooling parent.
You can follow Classical Conversations on Facebook, Twitter, Pinterest, Google+, and YouTube.